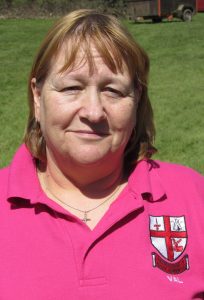 Hi. My name is Valerie Jackson and I am the Chairman for Herts and North London. We celebrated our 76th birthday as a DA this year. We have a full committee and are also lucky enough to have fellow campers who are always willing to help out. We have a full sites listing for this year, you can download our Sites list from the website. We are a friendly DA and welcome everyone so it will be good to see you out with us. If you feel you wish to get away and to meet new friends please come and join us, we look forward to meeting you soon.
Val Jackson, Chairperson of, Herts and North London DA.
---
The chairman's charity this year is Letchworth Hospice.
They do so much for people who have only a few days left and their families. It is very special to me and to other families.
Next meet
28th January 2019  Chiltern Region Dinner, The Best Western Hotel, Buckingham,MK18 1RY. The hotel can be booked for 1or 2 nights or you can join us for just the dinner and dance on the saturday evening. Swimming pool and gym are available
Please see regional website for further details
9th February 2019 Sausage and mash. St Nicholas School Stevenage SG2 0PZ. Gentlemen do the prep and cooking whilst the Ladies natter together. This year the DA will be supplying the Pies and the Cream. Remember your plates, cups cutlery and favourite tipple. Tea and Coffee wil be available throughout the evening
Cost £3.00 per adultand £1.00 per child
Prebooking is required for this event with Darryl by 27th January on 07545259630
Latest Announcements
We have a new THS this year. The site is at Apps Court Walton on Thames and will run from 29th July to 12th August 2019. Booking is required and unfortunately there are NO Electrics available. The site is on the side of the River Thames and is within easy reach of numerous tourist attractions.
Please note access to and egress from the site will be unavailable on 4th August until 16.00 hrs due to the road being closed for a cycle road race
Please see link below for further details. Cost £13.00 pupn
http://79.170.40.178/hertsandnorthlondonda.co.uk/home/apps-court-farm-1/
To book please call Tracey Camp on 07557914324, If you are thinking of coming at the last minute without booking please call Tracey to find out site availability prior to arriving